Andy started this build.
"J D I am always curious, Still on a search for a lighter weight boat that younger kids can make. Is this the 5mm plywood with exterior glue? do you think it would be strong enough built uncle johns style, ie with gusseted ribs and plywood butt joints with scabs over the joints. trying to cut down on build time and epoxy exposure."
I decided to build this boat to answer that question and some other thoughts I've had. I can answer most of this question now and have not finished building . Gusseted ribs, exterior wood glue. and plywood butt joints work just fine without any epoxy exposure for a UJ "style" pirogue.
The 5mm luan is rated for exterior use. I think it will require some extra steps/support for use in the floor.
Should have made better picture of ribs. Simply put side piece on top of floor rib and used two pieces of 5mm ply attached (glued and fasteners} on each side. I trimmed them flush with router but hand saw or belt sander would have worked. My attempt to make the arrow head shaped stem pieces failed so I went with how I usually do them. This would be easier for young builders if they are doing the cutting.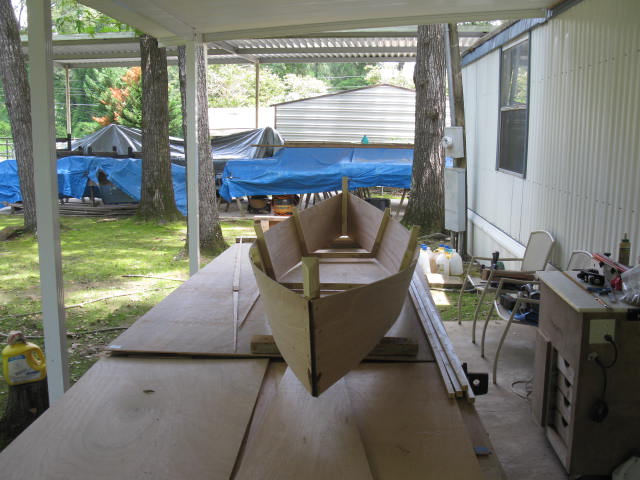 ---
Last edited: